The following words in the article are only my first impressions and should never be used against me or any persons/ company stated below, it should be treated as a personal opinion, and is subject to change after futher incidents of miggling:
Today was my last interview for Nuffnang, with Nuff's President and Business Development Manager.
The Business Dev. was late, but then she was the first to interview me. (She asked to view this blog) So, I was explaining to her my thesis, as it was just a proposal and not an existing brand, and how I came up with the brand concept, marketing and advertising plans. She was this all nice, entertaining, plesant aura. Then came the president, introduce himself, but rather not too plesant to meet. He is not what I expected a president of a company/ brand from Singapore- Malaysia to be or to look like, no crispy collars, no kiwi- shined shoes, no wow, just this behavior
(caution: a matter of first impression, so please bear with me)
of being, "Hey, I'm the boss", "I'm magaling", whatever (you know what I mean, angas effect). I'm not intimidated, okay, if that's what you think. I'm little pissed, because he doesn't know what WE do as an advertising student, and yet, he showed an impression of (if not an impression maybe a tone), "Hey, What's this crap?", "I- know- this- stuff" feel. But he was kind enough to say that my works have nice concepts, ofcourse, I came from The Royal Pontifical Catholic University of the Philippines, University of Santo Tomas! And graduated Cum Laude, been handled by the finest Advertising Practitoners (Virgilio Velez and Aristotle Estrella) Don't mock my Thomasian pride, okay! About that matter, he did ask me this:
Pres.: "Oh, so you are a Cum Laude? What rank?" (not the exact words, but the jist)
Me: "Umm... (thinking, what does he mean by rank) Cum Laude?! That's third from the rank? Suma... Magna..."
Pres.: "Yah, I know that. I mean how many are you in the batch?
Mamaya lahat naman Cum Laude!
"
Me: "I think the whole batch was 500?! Then the Cum Laude... 4? (atleast the ones I know)
Then the interview went on, until they asked me what was the asking salary I told the HR Ms. Joy.
Me: Php15 000.00 to Php18 000.00
President and Business Dev. made the FACE, then looked at each other.
Pres.: Lower?
Me: No!
Pres.: Why Php15 000.00?
Me: Transportation/ fares are high...?
That was wrong of me to give that answer. I should've answered that,
"Because I am WORTH it, and even more."


And another thing, the question about, what was the work I am most proud of. I chose PDI, and I don't know why, I just liked it. Must be because Sir Velez liked it, and that's what I have said. He then asked me, who's my professor. I proudly said that it was Mr. Velez from McCann. They also said that it was nice too.
Then when we reached the end of the interview, it when--- dead air--- I am staring at the President, the President is giving signals to the BD (eye contact).
Then they told me that they have
other applicants
and they are
still going to interview
them (I've heard that reason already, so that you won't say "it", the words that I'm not the one you're looking for or my asking price is too much, whatever) and they will keep in touch, but then I'm still crossing my fingers, because (pardon me for being too judging on this) will you hire the applicant after me, omg, the one wearing dark colored clothes, with like problem written all over his face.
Dad told me that they might hire an applicant with less knowledge--- because they are just asking for a salary lesser than my asking price. Like what happened to him when he was just a newly graduate. "Mother company nasa Singapore ang baba nila magpasweldo? Magugulang...", "Punta ka na sa Singapore."
Ofcourse, the Singapore thing was, I think just a joke.

You can never ever tell that we have a business, okay! That's a number one rule for me, because they will just tell you, why not work in our company instead.
Dad also told me, "Magsasawa ka din kakaapply."
Then a conversation of me and my mom:
Me: "Ma, I feel stupid, incapable, incompetent."
Ma: "Ka na?"
Me: "Because I graduated a Cum Laude, and like everybody has a job na except for me."
Ma: "Hindi naman sign ng incompentence yun, just like you strive to be a Cum Laude, you also strive to get the best job, and not just a job."
Me: "Maybe I'm bound to be just a masahita here, and a yaya of old people. lol. Aalagaan kita at si Mama Aty. Mga oldies."
Ma: "Lol."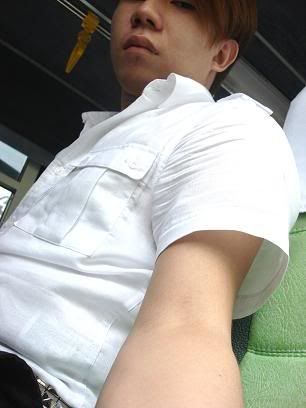 Fort Bus:
H&M White polo, Studded belt from Hongkong, Solo black pants.
Before I forgot, if they are going to offer me like Php 12 000.00--- just imagine this--- I ate a Php200.00+ meal (still starving after) before I went in the interview. That's it. I rest my case.